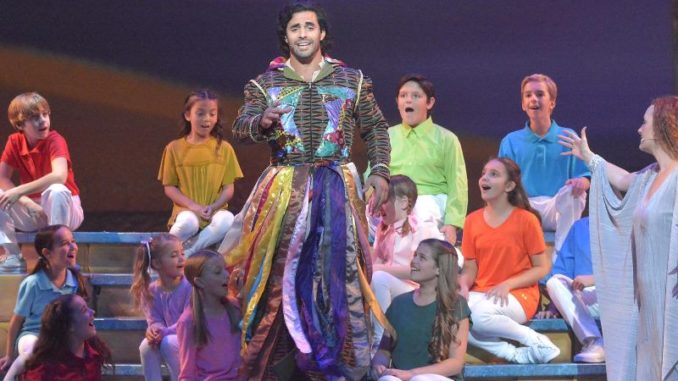 5-Star Theatricals (formerly Cabrillo Music Theatre) opened its 2017-2018 season on October 13th, with Patrick Cassidy starring as the Pharaoh in a fresh new look at the all-time family favorite, "Joseph and the Amazing Technicolor Dreamcoat",
I wore my coat, with golden lining,
Bright colors shining, wonderful and new
And in the east, the dawn was breaking
And the world was waking…Any dream will do…
The incredibly popular musical for all ages is an enchanting all singing/dancing performance lightly based on the Biblical story of Joseph in Genesis, and starts with the golden-voiced narrator (Laura Dickinson), telling a story that encourages children to dream, and follows with the story of Joseph (Adam Hollick), another dreamer. Joseph's eleven brothers are jealous of their youngest sibling because of their father Jacob's (David Gilchrist) overt preference for him. As a symbol of his favored son's position Jacob has gifted Joseph with a magnificent coat of many colors. Joseph is a gifted dreamer, whose dreams clearly indicate that he is destined to rule over his brothers, so, to prevent the dreams from coming true, they sell him into slavery to some passing Ishmaelites, who take him to Egypt.
Led by Jacob's oldest son Reuben (Marc Ginsburg), the brothers and their wives break the news of Joseph's fabricated "death" to their heartbroken father, singing, "There's One More angel in Heaven." As proof they show him Joseph's tattered many-colored coat that they've smeared with goat's blood. Jacob leaves, and the brothers and their wives, in thrilling singing and dancing performances, ecstatically celebrate the successful loss of their father's favorite son.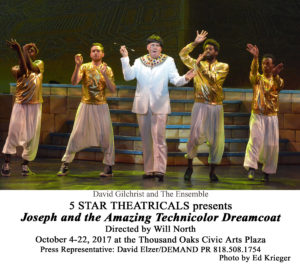 Joseph, now the slave of Egyptian millionaire Potiphar (David Gilchrist), rises to the position of running Potiphar's house. Mrs. Potiphar (Naomi Pacheco) makes persistent, sexy overtures to Joseph, all of which he rejects. Discovering the two together, an outraged Potiphar misconstrues the situation, and Joseph is jailed.
Despairing and dejected, Joseph sings, with soaring voice, "Close Every Door to me". His spirits rise when Pharaoh's two former servants, the butler (Michael Mittman) and baker (Tyler Stouffer), share his cell and ask him to interpret their strange dreams. Joseph predicts different outcomes for each, and all the prisoners encircle and encourage Joseph to go after his dreams singing, "Go, Go, Go Joseph".
The Pharaoh (Patrick Cassidy), acting and singing magnificently in the style of Elvis Presley, is having dreams that defy interpretation. The now- freed Butler tells him about Joseph's dream-interpreting ability. Joseph is brought to the king, who relates his dream of seven fat and seven skinny cows, and seven healthy and seven dead ears of corn. Joseph predicts seven plentiful years of crops followed by seven years of famine. An amazed and grateful Pharaoh makes Joseph the most powerful man in Egypt, second only to himself.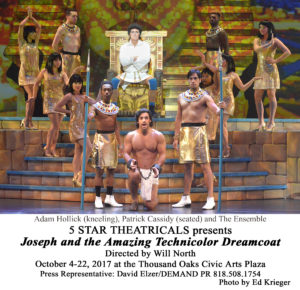 Joseph's brothers, suffering from a famine, now regret selling him and deceiving their father. They decide to go Egypt to beg for mercy and be fed—unaware they will be dealing with Joseph. He gives them bags of food, and plants a golden cup in the sack of his youngest brother, Benjamin, and then accuses him of robbery. The other brothers beg for mercy and ask Joseph to take them prisoner in Benjamin's stead. Joseph reveals himself, sends for Jacob, they are reunited, and Joseph is once again clothed in his amazing technicolor dreamcoat. A satisfying, extended grand finale brings the delighted audience to its feet.
"Joseph and the Amazing Technicolor Dreamcoat" is Song and dance—filled, joyful production with many fabulous and exciting dance routines choreographed by award winner Dave Scott. The vocalists reach wonderful heights, doing justice to Andrew Lloyd Webber's superb composition. The entire cast, that includes many talented young children, deserves recognition for their great performances.
Congratulations to director Will North, and the entire Design Team for great scenic and stage setting, costuming and all aspects of putting on a great show.        Highly recommended—don't miss this one! Be prepared to be enchanted again no matter how many times you may previously have enjoyed "Joseph and the Amazing Technicolor Dreamcoat"

THE MUSIC for "Joseph and the Amazing Technicolor Dreamcoat" is composed by Andrew Lloyd Webber, lyrics by Tim Rice, musical direction by Dr. Cassie Nickols, choreography by "So You Think You Can Dance" award-winning choreographer Dave Scott, and directed by 5-Star Theatricals Managing Director Will North.
THE CAST of "Joseph and the Amazing Technicolor Dreamcoat" features:
Patrick Cassidy starring as the PHARAOH
And features: Laura Dickinson as the NARRATOR, Adam Hollick as JOSEPH, David Gilchrist as JACOB/POTIPHAR, Tyler Stouffer as the BAKER, Michael Mittman as the BUTLER, Marc Ginsburg as REUBEN, Mitchell Johnson as JUDAH and James Olivas as LEVI.
THE ENSEMBLE features (in alphabetical order): Lal Besir, Devon Davidson, Luca De La Pena, Cedric Dodd, Amelia Fischer, Savannah Fischer, Rebecca Gans, Haley Gilchrist, Andrew Grigorian, Neico Joy, Julia Lester, Derek A. Lewis, Calista Loter, Marissa Margolis, Miyuki Miyagi, Adlai Musia, Collin Nelson, Madison North, Alyssa Noto, Rile Reavis, Drew Rosen, Marcello Silva, Bayley Tanenbaum, Taylor Lynda Thomas, Lilly Thompson, Alissa Tucker, Patrick Viloria and Terri Woodall.
THE DESIGN TEAM features: Lighting Design by Jose Santiago, Sound Design by Jonathan Burke, Costume Design by Beth Glasner, Props Design by Alex Choate, and Hair & Make Up Design by Quang Zeller. The Production Stage Manager is Talia Krispel.
PRICING AND SCHEDULE
"Joseph And The Amazing Technicolor Dreamcoat" opened on Friday, October 13, 2017, and run through Sunday, October 22, 2017. Performances are Thursday at 7:30pm, Fridays and Saturdays at 8:00pm, and Saturdays and Sunday at 2:00pm; with a special early performance at 1pm on Sunday, October 22.
Tickets may be purchased at the Thousand Oaks Civic Arts Plaza Box Office located at 2100 Thousand Oaks Boulevard in Thousand Oaks, or through www.5startheatricals.com, or by phone at (800) 745-3000. For groups of 10 or more, please call Group Sales, 5-Star Theatricals at (805) 497-8613 x 6.
Ticket prices range from $36-$84. For ticket and theatre information, call (805) 449-ARTS (2787).
"Joseph And The Amazing Technicolor Dreamcoat" performs exclusively at the Kavli Theatre, Thousand Oaks Civic Arts Plaza, Bank of America Performing Arts Center, at 2100 Thousand Oaks Boulevard in Thousand Oaks.