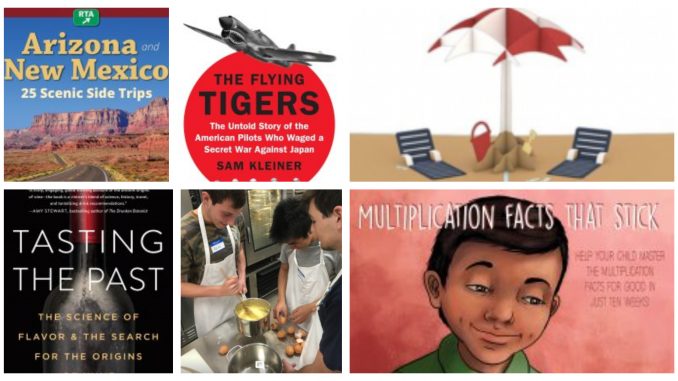 All items listed from most to least expensive.
RampShot
Get outside this summer with the coolest new, action-packed group game RampShot! It's described as 'corn hole on steroids' and incorporates two ramp boards and a bouncing ball. This isn't any ordinary board though, the ramp has grooves and ridges to make the ball bounce in various directions. The game is played two on two and requires jumping, running and catching. RampShot encourages motor skills, teamwork, and physical coordination.
$59.99  Buy now!
Once Upon A Book Club
With all the buzz around the movie Book Club are you feeling inspired to up your reading game by joining a book club this summer? What if the Book Club came to you AND gave you little gifts as you read the book?!? Sound too good to be true? Enter Once Upon A Book Club. This hugely popular subscription box will have you waiting by the door every month to find out the book that was carefully chosen by a team of absolute bibliophiles!! This is just the tip of the surprise iceberg! Inside the gorgeous book shaped box are 3-5 wrapped gifts just waiting to be revealed throughout your reading journey. Once you are done with the book, the experience isn't over. There are live discussions with the author and other book clubbers to keep the story going!
Buy a subscription for yourself and you will be waiting by the door each month for your box to arrive. Try one month for $35 or jump in for just $100 for a 3 month subscription, $200 for 6 months.
Starting at $35  Buy now!
Grand Canyon National Park Poster
The Grand Canyon National Park Poster measures 13″ x 19″ and is an original work by Robert Decker. The original photograph was taken from the Kolb Studio patio, near the trailhead to the Bright Angel Trail, which can be seen in the foreground.
The poster is created in the style of the Works Progress Administration (WPA) of the 1930s and 1940s and printed on "Conservation," a 100% recycled, domestically produced (80 lb.) paper stock with soy-based inks. From start to finish, each poster is 100% American Made.
$35  Buy now!
Acadia National Park Poster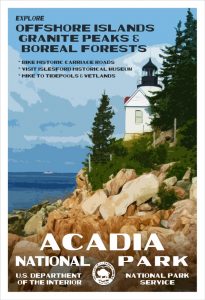 The Acadia National Park Poster measures 13″ x 19″ and is an original work by Robert Decker. The poster is based on a photograph he took on a 10,000-mile cross-country road trip in 1977. It features the iconic Bass Harbor Head Lighthouse, which is located at the southern-most part of Acadia National Park.
$35  Buy now!
Zion National Park Poster
The Zion National Park Poster is an original work by Robert Decker. It features a view from the banks of the South Fork of the Virgin River, looking across to The Watchman at the south end of Zion Canyon.
$35  Buy now!
Bonding Bees
Keep Date Night Alive. Enjoy a fun, new experience together every month, connect on a deeper level, and take a break from your typical routines.
$32.00-$39.00  Buy now!
The Flying Tigers: The Untold Story of the American Pilots Who Waged a Secret War Against Japan
Sam Kleiner's THE FLYING TIGERS: The Untold Story of the American Pilots Who Waged a Secret War Against Japan (Viking; On Sale May 15, 2018; 9780399564130; $28.00) tells the story of the young American men and women who crossed the Pacific before Pearl Harbor to risk their lives defending the embattled forces of Chiang Kai-Shek's China. These 300 individuals were effectively paid mercenaries, secretly recruited by a mysterious shell company that the United States government had created to circumvent its official stance of non-intervention in the war. Drawn from across the armed services by the prospect of seeing the world and earning a good salary, they traveled to Burma under false identities in the late summer and fall of 1941 and began training under legendary (and leathery) general Claire Chennault. The pilots first saw action twelve days after the bombing of Pearl Harbor (the first Americans to take on the Japanese following the attack), and for the next seven months performed an invaluable strategic service by keeping the Japanese occupied in China, thus enabling the United States to build up its armaments before fully engaging in the conflict. For their daring exploits and remarkable string of victories, they earned the nickname the Flying Tigers.
$28.00  Buy now!
Tasting the Past: The Science of Flavor and the Search for the Origins of Wine
Who made the first wine, and where? How do so many flavors and aromas come from grapes? What did ancient wine taste like, and what does the future hold for wine lovers? Journalist Kevin Begos, a former MIT Knight Science Journalism Fellow and former AP Correspondent, was inspired to seek answers to these questions after a chance encounter with an obscure vintage made near Jerusalem. He began investigating the mysterious vineyard and quickly found himself caught up in a viticultural detective story—complete with false leads, DNA evidence, and rare grapes hidden in remote valleys and plains across the world. He said, "I started to realize how little I really understood about the origins of wine, and set out to learn."
The result is Tasting the Past: The Science of Flavor & the Search for the Origins of Wine, which chronicles Begos's journey along the original wine routes—starting in the Caucasus Mountains, where wine was first domesticated 8,000 years ago, then down to Israel and across the Mediterranean to Greece, Italy, France, and finally to America, where vintners are transforming local wine culture by cultivating heirloom grapes with new, diverse flavors.
$26.95  Buy now!
Modarri Cars
Keep the kids entertained this summer with Modarri Cars! Modarri cars are durable, finger-powered toy cars with interchangeable high-quality parts, real steering, suspension, rubber tires and no batteries needed. Your kids design and build their own models using their imagination and creativity. 3 cars can design several of different models!
$24.99  Buy now!
Seaweed Chronicles: A World at the Water's Edge
In Seaweed Chronicles, Shetterly takes readers deep into the world of this essential organism by providing an immersive, often poetic look at life on the rugged shores of her beloved Gulf of Maine, where the growth and harvesting of seaweed is becoming a major industry. While examining the life cycle of seaweed and its place in the environment, she tells the stories of the men and women who farm and harvest it—and who are fighting to protect this critical species against forces both natural and man-made. Ideal for readers of such books as The Hidden Life of Trees and How to Read Water, Seaweed Chronicles is a deeply informative look at a little understood and too often unappreciated part of our habitat.
$24.95  Buy now!
RoadTrip America Arizona and New Mexico, 25 Scenic Side Trips
This outstanding new guidebook adds extraordinary two-lane adventure to straight-line Interstate road trips.  Add fun, history, and jaw-dropping natural wonders to your southwestern road trip with RoadTrip America's Arizona and New Mexico: 25 Scenic Side Trips, each one beginning and ending at an Interstate highway and drivable within a day. Full-color maps and photographs illustrate easy-to-follow scenic routes through breathtaking landscapes and iconic towns in Arizona and New Mexico. Discover the surreal beauty of White Sands, watch the sun set over Monument Valley, or explore the subterranean marvels of Carlsbad Caverns. Find out why Jerome was "the Wickedest Town in the West" or walk in the footsteps of Wyatt Earp in Tombstone. Pamper yourself at a spa in Taos or soak up the vibes at an "energy vortex" in the red rocks of Sedona. With this brand-new, up-to-date guide as your companion, all this and much, much more will be yours to discover and enjoy—one extra day at a time!
Stunning color imagery and photography throughout.  Easy-to read, full-color route maps with points of interest, mileage, and more.  Color-coded pages for easy identification of routes by geographic region.  Up-to-date insider tips for getting the most out of each route and staying safe.  Phone numbers, websites and visitor info for parks, attractions, and out-of-the-ordinary lodging & dining.
$24.95  Buy now!
Book Towns: Forty Five Paradises of the Printed Word
From Hay-on-Wye in Wales to Ureña in Spain, Fjaerland in Norway to Jimbochu in Japan, around 40 semi-official book towns now exist around the world. But until now, there has been no complete directory of their location, history and charm. Book Towns takes readers on a richly illustrated tour of these captivating, dedicated havens of literature, outlining the origins and development of each community, and offering practical travel advice. Explore bustling book markets in Calcutta and Buenos Aires, and pop-up shops in old churches, ferry waiting rooms and stables. A stylish and original guide, it is the perfect gift for both book lovers and travel enthusiasts.
$22.99  Buy now!
Mindfulness Matters: A Guide to Mastering Your Life
Get the insider's scoop on how to attain a fully flourishing life. Encompassing deep dives into mind, body, and spirit, you will be introduced to the science of positive psychology, engage with the practice of mindfulness, learn how to build an optimally efficient body, and commit to an elevation of your spirit. This is flourishing in action! Whether struggling with anxiety or depression, searching to fill a missing void, or just interested in everyday self-care, you will learn to identify opportunities for growth and seamlessly integrate life-changing practices into daily habits. Replete with powerful affirmations and practice exercises throughout, you will be able to build the framework that fuels and furthers your evolutionary journey for years to come and changes the trajectory of your life forever.
$19.99  Buy now!
The Cha-Cha Babes of Pelican Way
Would you move a dead body for the sake of your best friend? Ask cha-cha babe Celia Ewing, a sixty-five-year-old widow who has just settled into Boca Pelicano Palms, the Florida retirement community of her dreams. When Celia's best friend Marcy calls her and their friend Deb for help in the middle of the night, they find a naked Marcy trapped under the body of her beau, the community's board president, Melvin. And he's dead. The three friends secretly move Melvin back to his apartment setting off a chain of events that will threaten to tear their community apart and send them to jail. Melvin is one of a number of residents who are dying under suspicious circumstances; and soon Celia becomes an amateur sleuth in an attempt to identify what she suspects is a serial murderer.
Filled with humorous, witty observations about retirement communities, the realities of getting older, and the promise of new love, the Cha-Cha Babes of Pelican Way celebrates the deep bonds of female friendships, the desire for companionship at any age, and shows us that it's never too late to learn how to cha-cha through life.
$19.95  Buy now!
Math Facts That Stick Series
The Math Facts That Stick series by Kate Snow and published by Well-Trained Mind Press—which includes Addition Facts that Stick, Subtraction Facts That Stick, and the two newest titles releasing July 2018, Multiplication Facts That Stick and Division Facts That Stick—are fun, engaging guides that help parents teach their children the math facts once and for all, without spending hours and hours drilling flash cards! Ideal for children ages 6-12, the series guides parents, step by step, as they teach their children to understand and memorize the math facts. Hands-on activities, fun games that kids love, and simple practice pages help students remember the math facts for good.
$18.95  Buy now!
Beautifully Said: Quotes by remarkable women and girls, designed to make you think
Beautifully Said is a female-forward collection of 21 themed chapters of quotes from strong, successful, intelligent women. Perfect for hand lettering artists of any age!  Looking for a quote to inspire your daughter, sister, mother, teammate, or friend? Beautifully Said is a personal inspiration gallery, containing 21 themed chapters spotlighting women and girls who believe, build, discover, explore, heal, invent, laugh, lead, and more.
$17.99  Buy now!
The Shape of Rain (Newirth Mythology)
Michael B. Koep's final installment in The Newirth Mythology Trilogy brings a psychologist face to face with his greatest fear: madness. On the other side of the world, a professor of mythology struggles to interpret a sudden shift in the historical timeline, the mysterious discovery of the ruins of an ancient city and the anomalous nature of Loche's writing.
$16.99  Buy now!
Warm Transfer
In a romantic and sometimes humorous story, Warm Transfer drops us into an affluent world of scandals and secrets. Tamsen's husband Victor owns a successful advertising agency, and his income supports the Peel's lavish lifestyle in the uppermost echelon of Chicago society. Inside the clutch of Victor's controlling ways, however, Tamsen has misplaced her sense of identity.  Just as she has given up the dream she could ever have more, Whit, a handsome young musician, leans his beat-up bike against the iron fence of the Peel's Astor Street brownstone. Quickly, Tamsen finds an unlikely companion in his kindred, tortured soul. Despite their age difference, the two discover common ground in hot tea and their mutual love for the French novel The Count of Monte Cristo. 
It's only a matter of time before their friendship intensifies, and Tamsen must face the questions that haunt her: can she reclaim the woman she was in her life before Victor? Is the detriment to her children worth it? Is she worth it?
$15.28  Buy now!
Lovepop Cards 'Beach Day Pop Up Card'
The perfect way to celebrate summer, this pop up greeting card is the perfect way to wish your loved ones a happy summer!
$13  Buy now!
The God Gene Chronicles: The Secret of the Gods
Legend and lore lay the foundation for this exciting new series, which puts the deities of Hindu mythology center stage for a breathtaking, original superhero story. This story follows a boy, who is the critical link between Hinduism and Buddhism, as he bridges the world of Gods and humans. Everyone will find themselves drawn in to this fresh take on the origin story, which delivers revelations just as dramatic for those familiar with the mythology as those who are coming to it for the first time.
Set against the fascinating backdrop of contemporary India, the story takes us deep into the war between the demons (Rakshasas) and angels (Devdoot) that has ravaged the earth for generations. Meanwhile, three friends in a Mumbai boys school go about their adolescent lives ditching class and worrying about girls. One of these girls is the daughter of the leader of the Rax and another has a dark and violent agenda. Soon they all find themselves caught up in the events that culminate in the horrific Mumbai terrorist attacks of November 26, 2008.
$8.60  Buy now!
100 Insane Rhyming Quatrain Original Little Riddles
Smart fun for all ages, Steven Graff Levine's "100 Insane Rhyming Quatrain Original Little Riddles" will challenge and stretch your brain – whether you're competing against your friends and family, or curled up with a hot cocoa competing against yourself. This eclectic riddle collection guarantees to make you laugh, smile, groan and mostly go, "Aha! Give me the next one."
$4.99  Buy now!
In the kitchen culinary
In the Kitchen (ITK) Culinary, holds workshops and classes teaching authentic recipes and dishes, in a fun, open, interactive kitchen space. Cooking Classes, Corporate Team Building, Catering, and Kid related activities such as Camps/Parties and more. ITK's new home in Emeryville was the kitchen used for Top Chef Season 1, and was featured in the movie Hereafter, starring Matt Damon, Bryce Howard and filmed by Clint Eastwood.
ITK wants people to understand that creating beautiful food is within their realm and certainly achievable. Classes are focused on home cooking in order to broaden their horizons and add another arrow in their quiver. The adventure of food is continuous and filled with high and low moments. ITK helps bring people closer to the food they eat.
ITK Culinary is more than just cooking. It is a space that allows people to network and establish relationships, embrace new cultures, and to be mindful of their past. Whether shopping for ingredients or knowing which hardware to use, classes will guide people from start to finish. Prices for classes vary by instructors, class and format, a detailed calendar can be found at itkculinary.com 
Varies  Buy now!
*All images courtesy of respective companies. – Splash Magazines is not paid for this content though some of the items are linked to affiliate links.