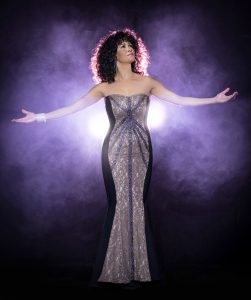 Fans have been missing one of the most glorious voices of our time since the death of Whitney Houston on February 11, 2012.  But now, through the efforts of Showtime Australia, known for their internationally-acclaimed artist tributes, Whitney's music will live again in the extraordinary talent of Belinda Davids as she performs in "THE GREATEST LOVE OF ALL: THE WHITNEY HOUSTON SHOW" at the ROSEMONT THEATRE on AUGUST 11.
Ms. Davids has already endured a trial by fire in America, performing "I Will Always Love You" before the hardest audience imaginable on Fox TV's "Showtime at the Apollo" Christmas Special in December 2017. Standing on the same stage at the world-famous Apollo Theatre in New York, where Whitney Houston filmed her "Greatest Love of All" video, she mesmerized the fans and earned a standing ovation with her powerful voice and superb delivery.  The video of her performance there was viewed more than 10 million times on Facebook in the following days.
Now, Belinda Davids is coming to Rosemont, in a spectacular show that does its best to recreate what a Whitney Houston concert tour would be like – with Whitney at full health and at the top of her game. A five-piece band, backing vocalists and choreographed dancers will accompany Davids on stage as she pays tribute to Houston with live performances of the legendary performer's biggest hits including "I Wanna Dance With Somebody," "How Will I Know," "I Have Nothing," "Didn't We Almost Have it All," "One Moment in Time," "Queen of the Night" and 15 other chart-topping hits.
The production has been touring since 2013 throughout Europe, the UK, Middle East, Asia, Australia, New Zealand and Davids' home country of South Africa.  It will continue after the Rosemont date to Milwaukee, WI; Houston, TX, Tucson, AZ; Indianapolis, IN; and many more locations across the United States before hopping the pond to the UK in the fall.
Though this is Davids' first major US tour in "The Greatest Love of All: The Whitney Houston Show," she's toured extensively in the U.S. as a backing vocalist for the likes of Keri Hilson, Keyshia Cole, and Monica.
Father and son team Johnny and Jono Van Grinsven, of Showtime Australia, acting as Producer and Technical Director respectively, have put together custom-designed lighting, theatrical effects, and more than 20 different hand-crafted costumes to recreate the Whitney Houston concert experience in this two-hour show.
In advance of her Rosemont appearance, Ms. Davids was kind enough to grant us the following interview about the show and her career.
SPLASH: You can clearly sing anything, so why Whitney?
BD: Because Whitney was the connection to my dream. She taught me how to sing and ever since I can remember, I have always known that being a singer was what I wanted to do in life. I fell in love with the purity and the technique in her voice and listening to her, taught me how to sing and Whitney's voice gave me the inspiration to follow my dream of becoming a singer/artist. Now that I've been in this industry as a professional singer for over 25 years, it clearly has paid off to have followed my dream of being an artist.
SPLASH: You're from South Africa, most Americans don't know how American pop culture translates in other countries, was Whitney as big there as she was here?
BD: Absolutely. She was as big of a deal and important to us in the South African pop culture, as she was in the American pop culture. I can recall that while growing up, Whitney's music was played in our home and many of my family and friends' homes, because of the soul in her voice that touched our hearts.  Also, Whitney had a deep connection to South Africa. She openly supported the anti-Apartheid movement in the 1980s and even campaigned (alongside the international community) for the SA government to release Nelson Mandela from prison. Mandela was released in 1990 and in 1994 when the African National Congress (ANC) party won the first and free democratic elections in SA, Nelson Mandela attended a dinner held in his honour at The White House in Washington, where Whitney sang for him. One month later (November 1994) she became the first ever international artist to perform in a free-and-democratic SA. With all this historical info, Whitney had a close connection to SA and we feel as close to her as Americans do.
SPLASH: You've been performing professionally since you were a young teenager, but did you formally study music and singing somewhere?
BD: I didn't study any musical degrees or have any formal training. All of what I do on stage is completely a natural gift from God and self-taught musical skills. Listening to Whitney was how I found my range, sound, and musical voice. I owe her everything. She's my idol, my hero, my inspiration.
4) What went into creating the show?  Did you do the song selection, was it the producer, etc? 
BD: Creating the show was a collaboration between myself and the producer, Johnny Van Grinsven. I have as much creative input into the show because I perform on stage up to 6 nights a week. The fact that Whitney is my idol and taught me how to sing, it feels natural to me to give creative input or make necessary changes, alongside the show's producer. It took 3 months to prepare for the show where I had to learn the choreography for all the dance songs, prepare and study 21 songs – which I perform in the show – as well as perfect the art of her nuances live on stage. The show travels up to 9 months per year internationally (mostly to Europe, Asia, South Africa, Australia and NZ) and now for the first time, we are embarking on a full-scale US tour, which will see us complete four months of touring across 35 cities.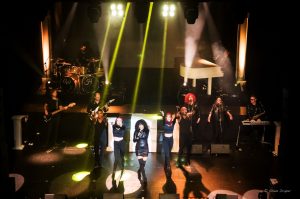 5) This is the American leg of a years-long tour. Whitney's songs are some of the most challenging in the pop repertoire.  How do you keep your voice in shape to perform them night after night?
BD: In order to perform for up to 4-6 nights per week, I have to take care of my body by eating certain foods that will help preserve the quality of my voice. I have to work out 6 days a week, I also have to not eat dairy, acidic fruits, and vegetables, meat as well as salty foods when I am on tour. Vocal rest is also necessary and as long as I can maintain my balance of diet, exercise and rest, then my voice is able to perform every night on stage at its best.
6) There is a standard for performing Whitney songs, particularly in America, but do you find the audience reacting to you like you actually ARE Whitney?  And what does the audience reaction feel like?
BD: When I perform, people are often in disbelief and they give feedback that I either sound like Whitney, or they at times when they close their eyes while in the audience, they feel that it's like having Whitney with them for a split second. I don't ever want to try and be Whitney. I say in the show that I am Belinda Davids paying homage to my idol, and the purpose of this show is to remember the music and the icon that gave us legendary hit after hit in her music – which will forever be embedded in our hearts.
7) Is sounding this much like Whitney a blessing or a curse overall?
BD: Yes. It's both a blessing and a curse because I have tried to pursue a solo music career, but was often told that my sound was strikingly similar to that of Whitney's. As a result, going the route of working as a tribute artist, was not only a platform for me to enjoy singing on stage but for me to sing the music my idol had inspired me with. As a result, it's taken me across the globe where I am able to bring joy to the lives of people who too love Whitney, as much as I do. I never thought that my big break would come from singing her music, but I believe I was born to sing and entertain, and if this is the route on how to reach people with my gift, then I am certainly blessed to have done so.
 8) Again, the tour has been going on for years. How long do you see yourself continuing as Whitney?
BD: For as long as I live! Even if the show has to end for some reason, I will continue to sing her music. If not too big crowds and people across the world, then just to my two children. However, in the near future, we will in the plans of incorporating my original music into the show, so that fans across the world, get to hear more of my own voice – rather than just belting out Whitney hits in the show. It's an important focus for me now, to show the world that I have to offer than just Whitney. The show is constantly being updated and improved to entertain the fans who appreciate good music, a stellar production, and the musical talents of both Whitney and myself.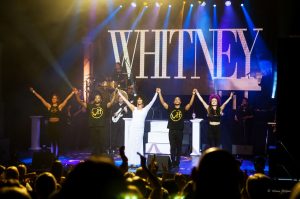 To witness the remarkable talent of Belinda Davids for yourself, get tickets to her Chicagoland debut in "THE GREATEST LOVE OF ALL: THE WHITNEY HOUSTON SHOW" by Showtime Australia at the Rosemont Theatre (5400 N River Road) on Saturday, August 11 at 8 p.m.
For more information and to purchase tickets ($25-125) call Ticketmaster at (800) 745-3000 or visit the Rosemont Theatre website.
For additional information about other tour dates, go to the tour website.
All photography courtesy of "THE GREATEST LOVE OF ALL: THE WHITNEY HOUSTON SHOW" by Showtime Australia.